Jr Camp
Dates:  July 8 – 13, 2018
Ages:  8 – 12
Cost:  $180
Location:  Camp Roganunda
Application Required.   
Applications Received after June 24th will incur a $15 late fee.
Packing List & Information
Jr Camp Directors – Jonathan & Jessica Sadler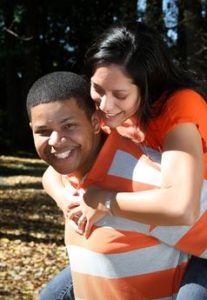 Jonathan and Jessica live in Auburn, WA where they attend Living Water Fellowship in Sumner, WA. Jonathan has been the appointed Youth Leader over their local church for 10 years and Jessica has been their worship team leader for 3 years. Both also help with their Children's Church ministry.
Jonathan earned his Bachelor's Degree from Evergreen State College in Education and Administration in 2007. Working as a full time Site Coordinator for the Sumner School District, Jonathan still finds time to stay involved in the community by helping other local churches with youth events.
Jessica has worked for the Boeing Employees Credit Union for 3 years and has worked in the banking industry for the past 7 years. She currently holds an Associate of Arts Degree from Highline Community College and plans to further her education by attending college to gain her Bachelor's degree in the near future.
Jonathan and Jessica met while both working at Top Foods Grocery Store in 2006 and during a very blustery November 2nd day in 2013, they exchanged their wedding vows. There are no little Sadlers on the way yet, but they are not far from their minds.
Jonathan and Jessica have been appointed the new Washington State Junior Camp Directors and will be directing their first camp in 2015. They have been involved in the camping ministry for over 10 years combined and are both very excited to see what God has planned. They can't wait to learn and grow in their new role.
December 2014, Jonathan and Jessica won Spirit 105.3 Home For The Holidays contest and were able to fly home to Indiana to be with his family for Christmas.   To get a glimpse into the amazing people that Jonathan and Jessica are, take a listen to their radio interview below.
For questions specific to Junior Camp, contact Jonathan & Jessica at jes_vaz@yahoo.com or jsadler777@yahoo.com