Winter Teen Retreat
Dates: January 12 - 14, 2018
Ages: 13 - 19
Cost: $85
Location: Camp Roganunda
Application Required
Applications Received after January 9th will incur a $15 late fee.
Joe & Celina Gonzalez - Winter Teen Retreat Directors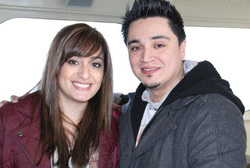 Joe and Celina live in Tacoma, WA. There they attend Rivers Fellowship where Joe is a Lay Minister and they both serve on the Sunday Worship team as well as the Youth Worship Band. They believe that today's youth are yearning for a real relationship with God and are passionate about connecting the youth in their community and state with Christ centered fellowship and activities.
Joe and Celina met at a Church of God of Prophecy State Convention, married a few years later and 1 daughter. They have both attended and served in their church's camping ministries. Joe served as a camp group leader beginning in 2009 and fell in love with the camping ministry and the positive impact it has on the youth that attend.
For questions specific to Winter Teen Retreat, contact Joe & Celina at
wayouthministries@gmail.com
---